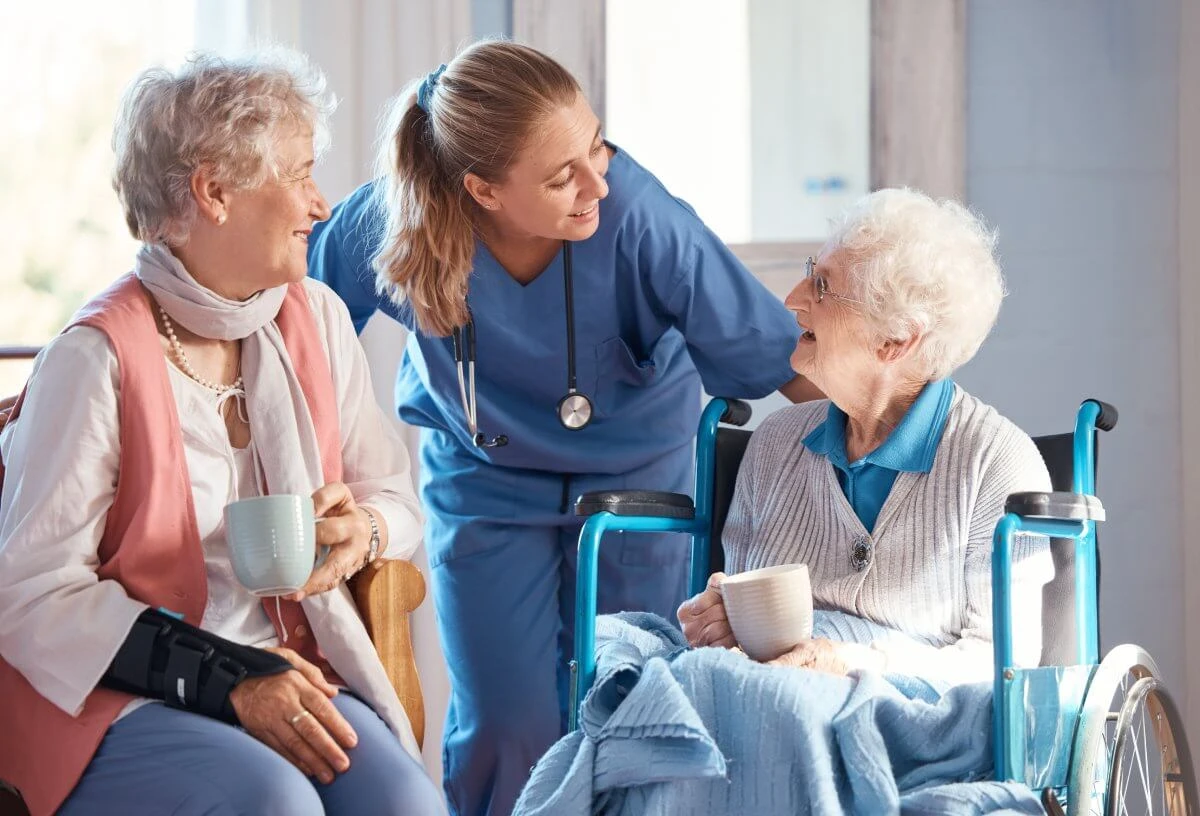 Home Health is a service that allows Home Care Providers of Texas to provide professional, skilled care to clients who are qualified for Medicare home health.
Home Health services allow us to get you back home to recover more quickly, and remain in the comfort and security of your home thereby reducing rehospitalization. A team of professionals will coordinate with your physician to create a recovery plan that best meets your needs.
Eligibility Qualifications:
Be considered "homebound."
Need intermittent care from skilled professionals.
Have your plan of care ordered and supervised by a doctor.
Request More Information
Home Health Services may include:
Physical Therapy:
Pain Relief, Exercise, Breathing Capacity, Muscular Coordination
The physical therapist directed objectives are to relieve pain, improve or maintain functions such as strength and mobility, educate in the most effective methods of performing essential activities, and test functions such as muscle strength, joint mobility, breathing capacity, and muscular coordination. These goals may be achieved through exercise to regain movement and strength to a body area; training on how to use special equipment, or by doing daily activities. Physical therapy can include some or all the following:
Safety Assessment / Education
Mobility Training
Endurance / Strengthening Exercises
Pain Management
Joint Replacement Program
Home Exercise Program
Lymphedema Therapy
Occupational Therapy:
Life Skills, Memory Treatment, Strength Training, Pain Management
The occupational therapist objective is to provide the patient with skills for the job of living - those necessary to function within the home environment and in the community. These goals may be achieved by developing, improving and restoring independence to the patient through means of engagement in activities of daily living that have personal meaning and value. Occupational therapy can include some or all the following:
Memory / Cognition Treatment
Pain Management
Upper body strengthening
Myofascial Release
Speech Therapy:
Improved Verbal Communication, Repetition, Audio-Visual Aid Support
The speech therapist objective is to provide corrective or rehabilitative treatment of physical and/or cognitive disorders resulting in difficulty with verbal communication. These goals may be achieved using strengthening exercises, instructive or repetitive practice and drilling, to the use of audio-visual aids. Speech therapy can include some or all the following:
Memory / Cognition Therapy
Communication Skills
Difficulty in Swallowing
Speech / Language
Post Stroke
E-stim Therapy
Alzheimer's Treatment
Home Care Providers of Texas includes a full staff of Physical, Occupational, and Speech Therapists trained in the appropriate therapeutic disciplines.
Master of Social Work Services:
Advocacy and Support
The Master of social work services objective is to assist the patient and their families with problems that may occur during their illness, disability, and recovery. These goals may be achieved by providing an assessment and possible referral to local community resources for social, emotional, financial, and personal assistance.
Medical Equipment:
Home Care Providers of Texas can arrange for the following:
Oxygen
Assistive Devices
Hospital Bed
Wheelchair
Walker
Cane
Bedside Commode
Orthotic Devices
Bathroom Safety Equipment
Home Health Aide Services:
A home health aide supplements a patient's basic nursing or therapy care by helping with:
Personal Care
Bathing
Light Housekeeping
Medicare does not cover home health aide services unless you are also getting skilled care such as nursing care or therapy.
Request More Information